Puppies, Upcoming Litters and What's available
PUPPIES 2018/2019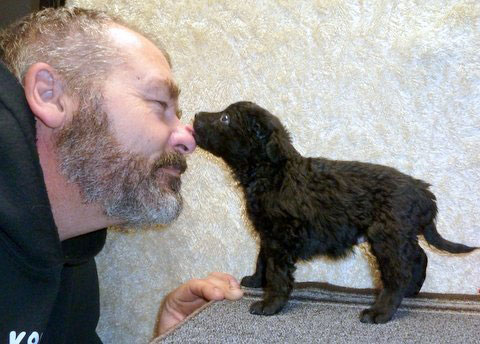 ** there is a waiting list - please contact us **
These will be a very versatile litter. Puppies expected to do well in conformation showing, and/or performance sports. There are lots of European conformation champions in pedigree, as well as strong working/herding lines. Parents are fully health checked for Hips, Eyes, Elbows, Thyroid, Full Dentition, VwD Clear, MDR1 Normal/Normal, and Degererative Myelopathy Clear. Full DNA colour locus panels completed.
These puppies will be raised in an enriched environment with an extensive socialization program, that start with the Early Neurological Stimulation exercises (the super puppy program) from day 3 to 16.
Puppies will come with full Canadian Kennel club registration and certified 3 generation pedigree. Puppies will have had eye exam by a board certified opthomologist, microchipped with the ISO chip (recognized internaionally), and first set of vaccinations. We stand behind our dogs with lifetime guarantee against hip dysplasia, auto immune thyroiditis, and degenerative myelopathy.
We will ship at buyers expense.
Our puppies are raised with lots of love and individual attention.
Puppies Planned for Dec 2018
GCH Nyirsegfia Renegade (Rebel)
(#1 Mudi in Canada 2016)
CH Tiszai Hullamtoro Buco (Bravo)
(#2 Mudi in Canada 2016)
breeding COI 6.6%
________________________________________
GCH Nyirsegfia Renegade (Rebel)
(#1 Mudi in Canada 2016)
CH Csodavirag Ocean (Artica)
(#3 Mudi in Canada 2016)
breeding COI (11.5%)
__________________________________________
All puppies are sold with a money back guarantee against Hip Dysplsia and Auto Immune Thyroiditis.
The puppies will be ready for their new homes at 8 weeks of age, and will be registered with the Canadian Kennel Club, had 1st set of DHPP vaccines, dewormed and health checked by a veterinarian.
We provide a complete and extensive socialization program for our puppies, including the early neurological stimulation exercises
(from day 3 to 16), as well as daily exposure to new sights, sounds, and textures.
We do sell our puppies worldwide and puppies can be flown at buyers expense. For flying puppies outside of Canada, we prefer that the puppies travel in cabin with either the buyer, or a transporter (although we are willing to travel with the puppy to ensure safe delivery).
For more information about our puppies or to learn how to get on how to reserve a puppy, please contact us at herdabout@rogers.com
More on Cost/Guarantees